Personalised program & meal plan
TRAINING PROGRAM AND PERSONALISED MEAL PLAN INFO: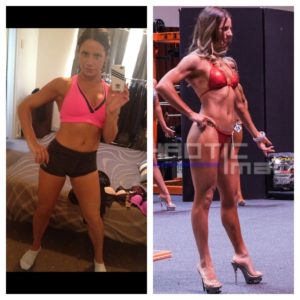 This is one of my success stories is helping Simone reach the stage, she took out 1st place in 2013 the INBA Victorian Fitness Model Novice category. It took us 6 weeks to get her ready from her before pic (on the left) to the pic you see of her on stage (on the right).
OPTION 1

If you are looking for something more specific and are interested in a new training program and calculated body fat reduction meal plan then please email me at justine@justineswitalla.com
This is great if you are interstate or if you feel you have plateaued with your weight loss goals. I don't believe in following generic diets or programs. To achieve a specific result it is important to make sure that you are following a correct meal structure and exercise program that is calculated for you. One of the services that I offer as a health and fitness professional is providing exactly that. A calculated diet and program tailored to your individual needs to assist you in reaching your goal. As this takes quite a bit of time for me to calculate everything accurately there is a cost involved. For a calculated diet and program package I charge $300.
I will prescribe a 7 day eating plan along with an exercise program specific to what you require to reach your goal and with that I will answer some initial questions and make any minor adjustments if required. If you follow what I have prescribed accurately then you will get some great results.
I do also offer an individual calculated diet on its own for $200 and an individual exercise program on its own also for $200.
The cost of a 7 day specialised meal plan is $200.00. If you go for the meal plan and training program you get both for $300.00.
Email me today, I am here to help


This lady lost 9kg in 12 weeks following my methods and is still going strong!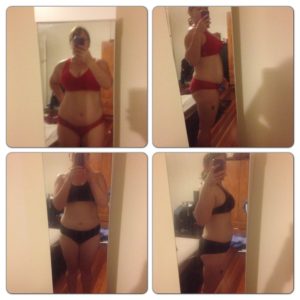 OPTION 2
I COULD BE YOUR FITNESS MENTOR!

I don't offer online PT at this stage, however I do have a system in place where I can be your fitness mentor.
For the cost of my hourly rate  which is $100.00 I will have a look at your current diet and training and make all the adjustments needed for you to start to see some effective results.
You will need to email me your exact daily diet and the times that you eat your meals along with your daily/weekly workout routine.
Once I have all the info I require I will adjust it and make suggestions so you will be on the right track. If I know what you are currently doing and how you structure your daily routine it makes it easier for me to correct what you are doing. That way you also get to continue doing the exercises that you love to do and I know that it will work in with your lifestyle. If this is something that you would be interested in then please email me on Justine@justineswitalla.com