Prices & Packages
Pricing

My Prices Range From $80-$110 Depending On Your Requirements. Training Packages And Group Training Sessions Available, Discounts May Apply.
PLEASE NOTE: All sessions are to be paid in advance. If you pay for a block of 10-20 sessions upfront, discounts will apply.

My Training Methods

As your trainer I will cater a program just for you. I have a broad range of clients who all have different goals. Whether you want to build lean muscle, tone up, lose weight, train for a triathlon or compete in a body sculpting or sports model competition. What ever your goal is, I am the trainer for you and will devise a plan in place so you can achieve your goal.
I provide a range of different training styles. From strength training sessions for gaining lean muscle or a high rep low weight toning and fat burning circuit, you name it, we can do it.
I mix up all of my sessions and cater them to YOU. I am also huge on posture and proper function training, I believe we need to target postural muscles and by developing a strong core and upper back muscles we can do this.

I offer each of my clients a personalised program that I will accommodate to your schedule, lifestyle and goals. I offer all of my clients a calculated body fat meal plan and on hand nutritional advice during our sessions.
One of my clients who followed my program and meal plan Before and After:)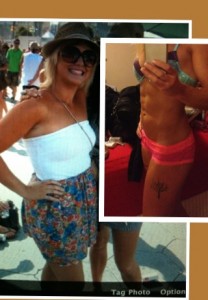 I will help you with correct supplementation and give you all the guidance I can to make it an enjoyable and successful journey. I will set you up with a weekly training schedule so that you will know what you are doing on a daily basis. You will never feel alone! With all this, you can feel confident and at ease that no detail is left out and that your fitness goals and achievements are our first priority.

I GUARANTEE you results!!

With my skills and dedication, you will be on your way to achieving all you desire and more. I want to help people make better choices and turn their goals into reality. It's a choice and once the decision has been made it will be game on!
Let me take you on the journey of a lifetime. You cant put a price on health!!!
Cancellation Policy

The most important factor in a health and fitness regime is consistency. Training regularly and turning up for each workout is just as important as the quality of the workout.

I use an appointment system to ensure you can always train at the same time and never have to compete for that time slot. As I can only do one session at a time your scheduled appointment is very valuable.
In the event that you cannot attend an allotted personal training appointment, 24 hours notice must be given in advance. This is to ensure that another client can utilise that time slot if needed. Cancelling at the last minute or within the 24 hours limit will result in the full session fee being charged.

Please note that I am loyal to my clients and an evening or morning timeslot is a valuable time as they are my most requested. By ensuring that notice is given I can consistently reserve these timeslots as requested. No-shows or cancels may result in the need to give this timeslot to another client based upon demand.

The above will ensure I can continue to deliver the best service to you my clients and reward loyalty by ensuring I make these premium times available.