A shift in focus and a new lease on life!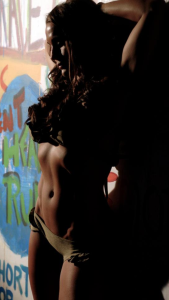 For me being in the limelight and constantly been looked to by woman for inspiration made me put a hell of a lot of pressure on myself to 'look a certain way'. Over my years as a Fitness Model I have gone through many shifts and I haven't regretted any of them as they have all brought me to where I am today.
My years as a competitive sports model are definitely over, I no longer feel the need to prove to myself that I can get up there and strutt my stuff and show off a super lean physique. When I was competing I only did it for fun, I honestly didn't take it as serious as a lot of you probably think. These days the sport is so competitive and more and more girls are wanting to compete and have the 'fitness model' look.
It is such a fantastic mini goal and I love seeing girls achieve their goals but I also see the dangers in the sport more now that I have stepped away from it. I see girls who think that they have to maintain their super lean physiques all year round to be happy and to get noticed from the public. I know this because I used to be one of them, I used to try and keep up by restricting myself and my lifestyle so I could have abs for a selfie on facebook and get a lot of likes from it. It is a very addictive sport and if you don't have an 'out' or post comp goals then you could be in for a very destructive ride.
The emotional roller coaster that competing sends girls on is pretty full on and it makes me so sad when I speak to girls who have gained a few kilos and feel that the only way to lose the weight and feel good about themselves is to compete again. This to me is a dangerous cycle to get into as to me you need to focus on the big picture and what I now focus on which is 'training for life' and being healthy!
Social media is creating a monster with so many girls seeing images of really lean woman and therefore thinking that it is easy to look that way as a lot of the time these girls are claiming that life is amazing and things in their lives are perfect. A lot of the time when I read those statements I question it, I know for one that when I was posting those statements all the time and posting selfies of myself I was feeling insecure and if I am to be extremely honest, I wasn't internally happy. It was like I was trying to convince myself that I was happy and that I truely loved and accepted my body but I actually needed validation from the public for me to believe it.
The dangers of serial extreme dieting are full on and if you are going to take risks then you need to be aware of the consecquences, things such as metabolic damage, adrenal or chronic fatigue, hormonal imbalances, stress therefore leading to weight gain and a very tired and upset body.
It took a lot for me to shift my focus away from what was the 'norm' to me and to start to focus on health and well being. I put a lot of it down to the people that came into my life.
Number one, training Kat Loterzo for her photo shoot and then becoming her business partner was the first shift for me. Kat is one woman that is so inspiring and she helped me realise the gift that I have isn't in my body but in my mind and knowledge. She helped me see that I have a gift and that being honest with myself and my followers is the best way to be. I am so honoured to be her business partner and I look forward to what her and I can create together to inspire, educate and motivate woman who are all shapes and sizes.
The second and most life changing moment was meeting my partner Matt, he has been the biggest blessing me to and I thank the universe everyday that he entered my life. I have never had a partner that I didnt question, there was always something in my gut that was questioning things and I knew that it just wasn't right.
I am so thankful that I trusted my gut and didnt stay in a situation that I wasn't comfortable in.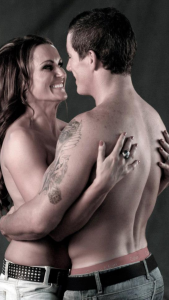 He has made me see that there is so much more to life and that being true to myself and being able to be 100% me are the most important things in life. I feel like I am in an extremely safe place with him, the love and the connection with him is so real and very true on both our parts, that is one of the best feelings in the world. 

Health and happiness are my new goals and these goals will not fade or pass, they are goals that I have set myself for life. If you are happy on the inside then you are happy on the outside and your body will always respond in a positive way. I am so thankful for this shift in my focus as I now believe that I am more approachable and woman can see that I am normal and a real girl who goes through the same shit that all woman go through. The highs, the lows, the moments of self doubt, being scared etc are all things that we all go through.
Life is not amazing all the time, there are amazing moments but we have to be real about what life is about. We learn from the lows and we grow from the moments of self doubt. We woman need to ban together more and be supportive of each others journeys, not compare and put each other down.
The photo shoot that Matt and I did on the weekend was all about health, love and all of the things I have spoken about above. I wanted to celebrate my shift in focus and what better way to do it than with the man I so dearly love. It was so great to just rock up to the shoot not having had to 'diet' as such or dehydrate my body. For me the shoot was all about how we live everyday with a great balance of nutritious food, training and normal living.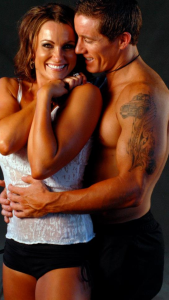 My focus has definitely shifted a lot over the past few months and I now honestly believe that I am now training for life rather than a specific goal or to be super lean. I aim to live my life balanced with whole foods, treats and lot of fun and good times.
I have never felt this happy and healthy before. Life for me now is about balance, love and fun! I am training to be happy and healthy, I love the lifestyle that this focus gives me as I no longer feel like I don't deserve fun or treats. I listen to my body and rest when I need to, I take time out for me and love spending time with Matt and my friends.
My goal is to nourish my body not loathe it and compare it to anyone else's. My body is my temple and I intend on treating it that way. In my eyes being kind to your mind, body and soul are the keys to a successful and blissful life so that is what I intend to do everyday!
I hope this inspires you ladies in some way to be your best you and believe in your journey, the best is yet to come so don't give in when the going gets tough, embrace it and keep going!
Justine xxxx