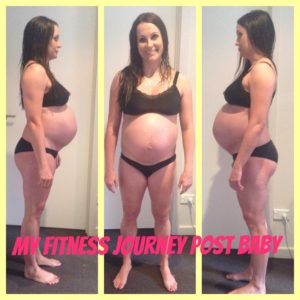 [alert_yellow] 39 weeks pregnant, taken 3 days before Leo was born!
[/alert_yellow]

Wow, nothing can prepare you for motherhood, the first weeks are definitely very challenging. Not only is your body healing but you are also coping with hormones, breast feeding, sleep deprivation and learning how to be a mummy. It is a day by day learning process and one that you have to be super patient with. I didn't get out of the house much in the first week and there were a lot of tears. When my milk came in it was a very testing time, not only were my nipples sooooo sore but I was also coping with the hormones that would see me cry at anything. Babies need there mummies so much at the start, I know that Matt has felt a tad helpless at times as there is nothing he can do to help me. In saying that he has been a huge support and is such a great daddy, I love watching him with Leo, it warms my heart to the core.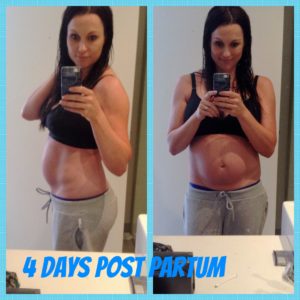 [alert_yellow] Here I am 4 days after the birth of our beautiful bubba Leo
[/alert_yellow]
I am still very swollen, fluidy and sore here but had already dropped a significant amount of weight just from giving birth. The day after Leo was born I lost 7 kgs alone. I gained around 14kgs during my pregnancy.. During my pregnancy I trained as much as I could and ate well but also was a lot more relaxed with my food and ate more of the things I wouldn't have prior. I enjoyed my pregnancy and embraced the changes to my body. I was lucky to end up with no abdominal separation or stretch marks. My belly is very soft here and squishy and my core is very weak but that does not phase me in the slightest. I am more proud of my body here just knowing what it went through to bring our baby into this world. Women's bodies are truly amazing 🙂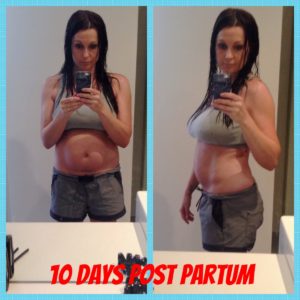 [alert_yellow] Here I am 10 days Post Partum [/alert_yellow]
In the first 10 days I have managed a few 10 min slow walks to the cafe with Matt and we have had a few outings as a family, this is all I could manage at this stage and am in NO way in any rush to get back into the gym. My body is still sore and healing slowly, I will see out the 6 weeks before I start up with my training again, I want to let my body heal properly. I have been eating as healthy as I can but have had a few treats cos I freakin' deserve them 😉 I am being super kind to myself during this time as should all new mummies, I am not watching what I am eating as such, but I am keeping things balanced and as healthy as I can. Here my tummy is slowly contracting back but still very soft and squishy as to be expected! I am 4 kgs off my starting weight already but of course my body composition is so different as I lost a lot of muscle during my pregnancy.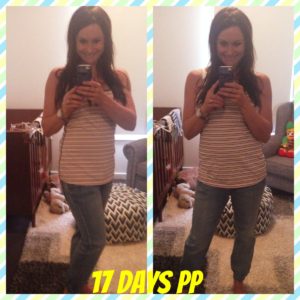 [alert_yellow] 17 days post partum and rocking my jeans 🙂[/alert_yellow]
We are slowly getting into our groove now, it has been a bit of a blur the past few weeks but I am getting my head around it all now. I have managed a few more walks and outings with Matt and my mum who is here from NZ to help out.
I have set myself some pretty big goals for this year, not just physical ones but career ones also and I am excited to see how the year pans out. I have sourced out a fantastic trainer who I will go and see after my 6 weeks is up and start to rebuild my body under her guidance. I am not looking to jump up on stage, I just want to gain back the muscle that I have lost and be as fit and as healthy as I can. I will book in a photo shoot so that I will be kept accountable during that time and will have some photo's to show off at the end of the 10 weeks.
I am excited to share this journey with you all and to let you all in on what is happening throughout the year as it rolls out 🙂
Juzzy xx