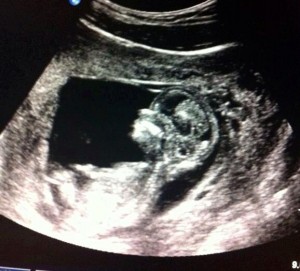 Weeks 12-14 dated from 26th June-11th July
Wow, what can I say, the past week has been a rollercoaster of emotions. Leading up to our 12 week scan I was so excited yet so scared, I was a tad aprehensive about it all and just prayed that our baby was healthy and still going strong. My body was telling me that things were fine as I still had sore boobs and the nausea was there even though it had subsided ammensely. My belly is really starting to pop now and I know that if you knew me you would start to be suspicious that something was up as I look different now, it is a lot harder to hide.
I have managed to pick my training up in the past week as I am feeling so much better, last week I managed 2 x RPM, 1 x weights session and 1 x pilates class. I have started to do one one one pilates and I am really enjoying it, it is something I haven't done before but I am finding it challenging enough and I am really loving trying something new.
My diet is still much the same, loads of whole foods, good carbs, fruit and protein. I have been able to stomach natural protein shakes now which is cool, I am adding in my pharma greens so giving my body a hit of nutrients which is great. I am still snacking on crackers and am loving cheese, my baby is definitely loving the savory snacks. I am also enjoying eggs on gluten free toast as my lunch or dinner and chicken wraps are definitely up there with foods I can stomach and are enjoying.
The day of the scan came and it was the best day of my life, seeing our baby moving around and hearing its heartbeat was such a surreal and special moment, one that I will never forget. I can not believe that we are having a baby, such a precious and special thing and I am so excited! Making the announcement was the best feeling for me, I feel so free and true now, it was so hard for me to not say anything and now I feel as though I can just be me and don't have to hide anything anymore. We are moving into our new home this weekend, a lovely 3 bdr place in Newport and I can not wait, it just seems as though things are falling into place and that my whole world is changing for the better. I am more in love with Matt than ever and so excited for our future together, life is just wonderful!