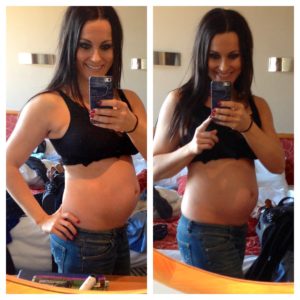 Weeks 18-20 Dated 7th Aug- 21st Aug

Can't believe we are half way through already, time really is flying by which is pretty exciting as Matt and I can not wait to be parents!
These past few weeks have been fairly hassle free and cruisey to say the least. Things have been very low key on the work front, I am really slowing down with my PT business, I am only doing around 6-8 clients a week. I am finding the early mornings hard work so I am now starting later which makes my days a lot more manageable. I find that if I have a good nights sleep I feel awesome and then if I sleep bad (which was when I had to get up super early) I feel horrible all day so it just seemed the right thing to do to cut down on the early starts.
I am fairly consistent with my food now and am not having any weird cravings, I just like to eat the foods that I feel like at the time. Still not a huge fan of chicken and meat, I will have chicken in a wrap and can stomach it that way. I am having scrambled eggs with cottage cheese and cheese a lot which I am loving so that is good as getting my protein into me that way. I am honestly not being super strict on myself at all, if I feel like a muffin, I will have a muffin. I really worry when I hear pregnant girls say they are watching what they are eating and not listening to their bodies, you shouldn't NEVER diet when pregnant, of course you need to keep things in check and try not to go overboard but stressing about your food and limiting your macros or calories is a big no no.
It doesn't mean you can go and eat what ever you like in the way of starchy and sugary foods, I try to keep it in check and am definitely not eating for two like people say. My portion sizes are not that big as I get full quick so I am eating smaller snack sized meals throughout the day.
Training has been consistent, I really just listen to my body and train when I feel like it and rest when I don't. I am not putting any pressure on myself what so ever and am really enjoying the down time that pregnancy has given me. I average around 4 sessions a week but they are all lower intensity and generally only go for around 30-45mins apart from Pilates which goes for an hour.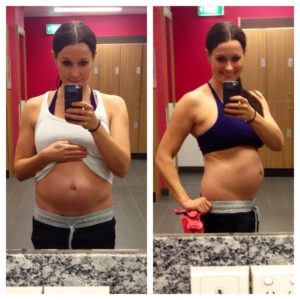 We had our 20 week scan this week and that was such an amazing experience, I love seeing our wee bubba on the big screen moving around and hearing the heartbeat. We found out the sex but have decided to keep it to ourselves until the big day as that way it will be a nice surprise for everyone.
I have been lucky enough to have a girl Kelle who runs an interior design company for little ones offer to help me out with the nursery. I have told her what I want ie colour schemes and the feel of the room etc and she is going to put a plan in place for me so that I have a step by step process in place that is easy to follow. I am a tad useless when it comes to that sort of thing so I am really stoked she has offered her services and cant wait to get started on it!
Check out this link to see what her company is all about
http://habitatandbeyondkids.com
Pregnancy really is a wonderful time and I can honestly say that I am really enjoying it, it makes you see the world differently and really puts things in perspective. Yes there are days when I miss my old fast paced life but all in all I can honestly say that it is such a blessing to go through it, it doesn't get much better than creating life!
Juz xx