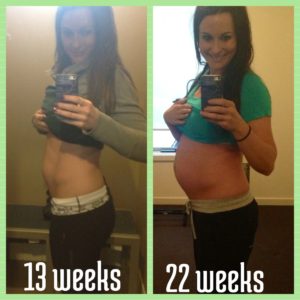 [alert_blue] Bump growth since week 13 [/alert_blue]
[alert_yellow] Dated 4th Sept- 18th Sept
[/alert_yellow]
These past few weeks I have been all over the shop, I have felt a heap of different emotions from happy, excited, anxious, sad to angry.. gotta love the preggy hormones, they can play havoc with us ladies! Generally though I am feeling good and very positive. I think the only days that I feel low is when I am tired or overwhelmed.
My bump has had a growth spurt and so have my boobs so am now really starting to feel pregnant. I have a slight pain in my lower back as my pelvis is shifting to make room, it isn't too bad but somedays it is worse than others. I still look at myself and wonder how the baby is going to fit, I have always been so small and have no hips so there isn't much room in there. It constantly amazes me what our bodies can go through and what they are made to endure, it really is an amazing thing to experience. I haven't jumped on the scales lately and don't intend on doing so until I am at the end as I don't want that number to mess with my good head space. My body composition has changed so much and I have lost a lot of muscle so the number on the scales will never be accurate as to what is really going on. My focus has shifted a lot as to what my body's job is right now and that is to be healthy and to give my baby the best home possible until it comes out to meet us in January.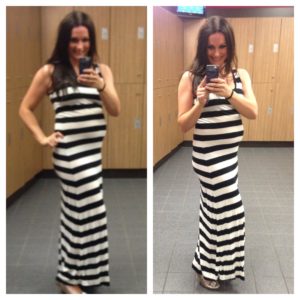 [alert_blue] Me and my bump in a maxi dress for the first time 🙂[/alert_blue]
I had a slight nausea feeling on some days from week 21 til recently, it has subsided a lot now but at the time was annoying at the time as it stopped me from wanting to train. As it has gone away more in the last week or so I have felt good again and been motivated to train again which is good.
I have made a start on buying things for the nursery and I have to say, it is so exciting. I just love that I am creating an inspiring environment for out little one, these days it is so easy to shop too as a lot of it you can do online. Kelle who helped me design it has been such a big help to me and helping me choose the things that I want, if you need help designing your nursery or kiddies room then you need to get in touch with her she is amazing!
http://www.habitatandbeyondkids.com/

I have been having the craziest of dreams lately too which is something that I now know pregnant women experience, they are so vivid and very bizarre. I am not sure why that happens, it may be that the sub-conscious is in over drive and of course the hormones that we all love.
My eating has been fairly good, still eating the same foods and also adding in some extra treats. I tend to eat well through the week then I am more relaxed on the weekends. That is how I lived pre baby so it has just kinda stuck with me which is good. It isn't a time to go nuts and eat the house down but you do definitely need to listen to your body and give it what it needs. Sugar helps my nausea so I usually carry a stash of sweets with me in the car so that when I feel the nausea I can kick it in the butt!
Still haven't felt bubs move which is annoying me, I want to feel it!! I have felt the bubbles and the flutters but no movement as such. I can't wait for the day that I feel it kick for the first time and also so that Matt can feel it when he puts his hand on my belly!
Time is honestly flying, I feel that our baby will be here in no time at all.. Still feel like I have a thousand and one things to do but I am doing my best to take it all in my stride and take it day by day. Life has taken on a whole new meaning to me now on so many levels so I am just embracing that and trying to enjoy all that is.
Justine xx