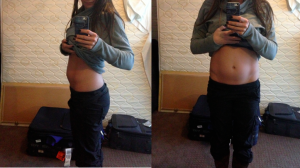 Weeks 8-10 dated 29th May-12th June
I have started to feel slightly better these past few weeks, still have the ongoing nausea but it has subsided a little bit. I have found that I am not as tired and am able to feel a little more human than I have been in the past few weeks. I am still not training at all really, I have managed one workout and a walk in but that is all.
We went back to NZ for 5 days during this time which was really nice as we were able to celebrate the joy of our little baby bubble with our families. I have to admit that I ate a lot of food while I was on holiday and I went off track a lot, it does play havoc with my head a little bit but I am honestly just eating what I feel like and it may not be the best option but it is what my body is craving. I guess the fact that I am not training and eating a lot more than normal is getting me down a little bit as things have changed so much for me and my body is not in my control anymore.
I had a bit of an emotional night last night in my head and went into OMG mode.. It is still slowly sinking in and I know it is happening but every now and then I get that scared and anxious feeling, knowing that my life is never going to be the same again. I guess that is normal for your first baby as not only is your body changing but everything you do and have done and will do is changing at a rapid rate also. I do miss having the motivation to train and can not wait til I am out of my 1st trimester and I feel better and can be honest with everyone and tell them why I have been feeling (and looking) so flat and down. Matt has been amazing and is so supportive and understanding, he kissed my belly the other night and I felt so teary, he is going to be an amazing father and I feel blessed to have him as the father of my children.