Download my Ebook here! Just $49 for the bundle!
Save $5 when buying as a bundle by clicking above!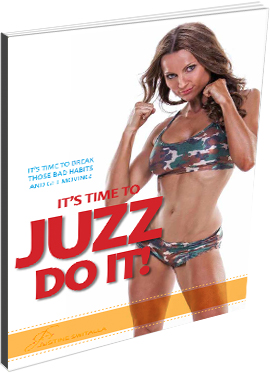 I take all of the 'guess work' out of everything, there is nothing that I don't cover and give you the answers to in my program. You honestly have no excuses, it is time to 'Juzz Do It'!
I can guarantee that if you follow my Juzz Do It program for at least 30 days you will start to look and feel better. You have to remember that it takes 21 days to form a habit and only a few to break one so you have to commit and keep going!
My program is split into 7 chapters:
Chapter 1: Perception Vrs Reality- This is all about what is real and what isn't. I unveil the truth about Fitness Models and what it takes to get to extremely low body fat levels.
Chapter 2: Transformation- I share my transformation story and images with you so you know that I am a normal girl that has to work hard to look the way I do, it doesn't come naturally.
Chapter 3: Goal Setting with tasks
Chapter 4: Self Belief
Chapter 5: Get Moving- An exercise plan for at home and at the gym so there are NO excuses!
Chapter 6: Nutrition- Recipes and an outline fo what to eat for all the meals of the day including snacks and healthy treats.
Chapter 7: Supplementation advice and a shopping list
Testimonials from My Juzz Do it Girls!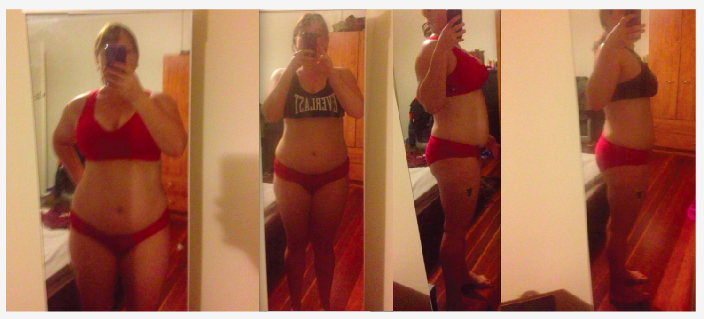 Hi 🙂
Well I wanted to show you the progress I have made. The first three photos are from week one
May be hard to really tell at this stage as it is only the begining of a whole new awesome healthy body for you.
When I look back at the photos from week one, i remember how I felt in them and
I know my mind and body are so much different now.
I actually suffer from depression and I was finding myself having a lot of tough moments about a month leading up to starting this. I am happy to report that i feel the depression is in check and i am always seeing the brighter side to life now. Even colleague have noticed that I am not so stressed. Just goes to show that diet plays such a big part in a persons whole being. Body and soul:))
Now I know I will never be a model but I am going to try and be the best me possible. 5kg down in 5 weeks and I am feeling awesome!
Thank you so much for putting up your inspriational posts and photos. Love that your human:) makes me so much more motivated to push myself
Looking forward to showing you photos after another four weeks
Love your work
Teressa
XXXXX

Hi Juz,
Here are my long awaited Photos, I am so proud of myself!
I want to give you the biggest Hug and say Thank You so much!
I'm on day 17 and feel amazing, I have more energy than I have ever
had and my mind is so clear. I have lost 2kg. 2.5cm off waist. 1.5cm off love handles. 2cm off legs(top). Still can't believe how amazing I feel. Thank You so much Juz!
Can't wait to meet you in July at your seminar with Kat!
Lisa.  Mwah
The best part about my program is that it comes bundled with a 92 page workbook so that you can document your journey, this is a crucial key to anyone who is wanting to change not only their body but their thought processes and belief system!
I take all of the 'guess work' out of everything, there is nothing that I don't cover and give you the answers to in my program. You honestly have no excuses, it is time to 'Juzz Do It'!
Alternatively, each of the 2 downloads in this bundle are available individually. The 'Juzz Do It' eBook is available for $39 individually. The 'Juzz Do It' Workbook is available for $15 individually. To purchase single items, please use the buttons below.
[one_half_first]
Juzz Do It – eBook – $39[/one_half_first]
[one_half]
Juzz Do It – Workbook – $15[/one_half]
[alert_red]
IMPORTANT: After your payment has gone through with paypal, ensure that you click on the 'Return to Justine Switalla' link to return to the download page for your ebook!