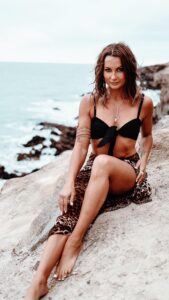 Justine is a health and fitness expert and founder of FEMME. Her brand is her business, and her impact on social media is fast growing, making her one of the top 'influencers' throughout New Zealand. Justine prides herself on living a very healthy and well balanced life and her mission is to empower women to be their best selves by assisting them with their weight loss goals and helping them to also establish a healthy mindset towards themselves. 
TESTIMONIALS 
Stuart Cooke-Director of 180 Nutrition
"As a health and fitness ambassador, presenter and fit healthy mum, Justine is the perfect person to represent our brand. She works tirelessly in producing great content across a variety of platforms and hits all angles from food and nutrition to exercise and movement. We enjoy working with Justine and look forward to growing our brands together in the future".
Lindy Olsen – Editor and chief at Oxygen Magazine Australia
"Justine has previously been a proud ambassador for Oxygen and is to this day, actively involved in Oxygen initiatives, event activations and has contributed to several features over a number of years. She was also an Oxygen cover girl and was part of our special collector's edition issue. She has been of great value to the team at Oxygen over the years and has a super infectious bubbly personality that rubs off on all that she meets. Her biggest quality is that she keeps things real and her followers and fans love her for that".
MS walk + Fun Run 
"Justine was our ambassador for the 2018 MS Walk + Fun Run. Justine was a great fit the MS participants and best of all, she was a pleasure to work with. Justine has a very strong connection with her community and always responded to her follower's comments and messages. She was clearly passionate about her business, her followers and was always open to help MS Walk Fun + Run to raise awareness and support for people living with MS".