Only one payment of $87.00 (usually $147)
Membership expires after 3 Months.
Check out these amazing results,
this could be you!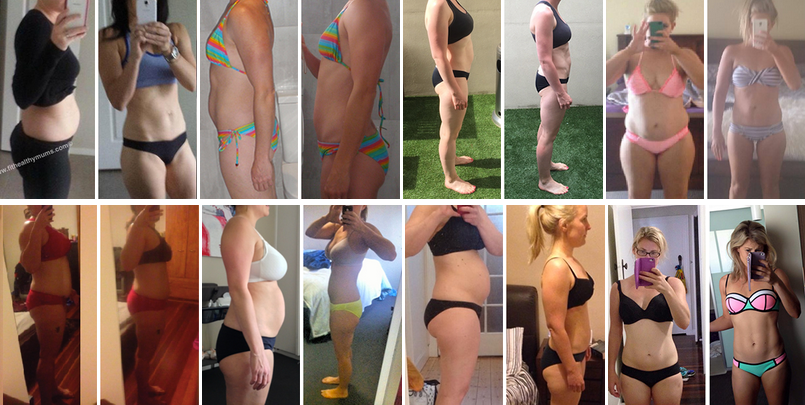 What you get when you join:
6-week periodic training program for the gym (training program for home available on request)

Nutritional guide with recipes that gives you options for all of the meals and snacks during the 6 weeks. Designed by a qualified nutritionist and are all gluten free

Vegetarian plan available on request

Supplement information

Daily support from Justine in the Facebook forum

Exercise videos with demos for all the exercises in the program

Instructional/tutorial videos for the 3 major lifts – Deadlift, Squat and Bench Press

Core demonstration videos

Stretch demonstration videos

Tips on goal setting and how to break through those mental barriers and much much more!
If you answer YES to any of these statements
then Fit, Healthy & Strong is for you!
You want to learn how to lift weights properly and effectively
You want to shift that last 5-10kgs
You have hit a plateau with your training and your body isn't budging
You want to learn how to eat to nourish your body with the right foods and supplements
You're sick of 'dieting'
You want to hit PB's in the gym every week
You want to get strong mentally as well as physically
You want to look and feel confident
You want to be lifting heavy arse weights and feel proud of your efforts
You're sick of over training and going around in circles
You're sick of trying all the programs out there that promise results yet you're not getting results
You want to base your training goals around how much you can lift rather than the calories you are burning
You are sick of your image consuming you and you want to have a healthy relationship with yourself
You want to find a system that you can maintain and is sustainable for a fit and healthy life
What is Fit, Healthy & Strong?
Fit, Healthy & Strong is a 6-week program that will teach you all of the tricks and secrets that I know to help you gain lean muscle and burn unwanted body fat. I will teach you how to do this in a way that you will look after your metabolism and protect your lean muscle. This means that you will not be over training, cutting calories or counting anything, you will be eating nutrient dense food and training effectively and with purpose. I want to help you find your inner athlete and base your training goals around how much you are lifting rather than what the number on the scales says. This will be an intense yet enjoyable 6 weeks for you, you will learn a lot about your body and you will finally begin to understand the benefits of how lifting heavy in the gym can shape and tone your body!
If you are ready to take your body to the next level all the while remaining healthy mentally and physically then Fit, Healthy & Strong is for you!
LET'S DO THIS!!
Only one payment of $87.00
Membership expires after 3 Months.