There really is no other way to reach your goals without a little thing called self belief. If you are not in your own corner backing yourself 100% then I am afraid you just won't get there.
Goal setting is crucial for life, you should set yourself not only fitness related goals but spiritual, emotional and mental goals. There are so many aspects to living and if you focus solely on one you will miss out on a lot of what life has to offer.
Lately I have been challenged in a few ways.. I have been going through a transitional phase.. I am one to always see the bright side of life and keep moving forward but this does not mean that I don't have bad days and days where it all seems too much. We are all human after all and if we don't have the low points we genuinely can't rebuild ourselves to take on the challenges that life will always throw at us.
Taking a few months off from photo shoots and comps etc I went out and I had some fun, I lived a very social life and it was fun at the time, I really needed to do that after having a very serious year working and training my butt off.
While I was in that social phase I started to doubt who I was and where I was heading, I started to feel a tad lost and a lot overwhelmed by the task at hand and by the goals that I had set myself.
To get me out of this rut I started implementing mini goals, I knew that if I was to look at the big picture I would freak out and I could have stayed in that rut. So I booked in a training video shoot to get my head back in the clean eating game and I started aiming towards that. I then booked in a photo shoot in Sydney for my own port folio (which is what I am training for right now). These mini goals are easy to focus on and they don't scare me, they have helped me move forward and get me out of that rut. It is like a clog ticking over in my head, once I have achieved that mini goal I tick it off and move on to the next mini goal. When that clog is in motion you can't help but move forward from the momentum of it. Not only do you feel self satisfaction but you start to feel GOOD and you want to keep that clog ticking over and over.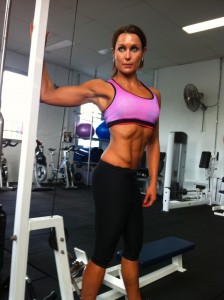 This week alone I have begun to really land on my feet and have had some very exciting news in regards to magazine publications, media opportunities, a potential weekly radio gig and new sponsorships. I can honestly say that I feel like I am moving forward one mini goal at a time. The people that are in my life are in my corner, I have some amazing people who genuinely want me to succeed. I have sorted out those that I don't believe to be true or those that are not on the same path as me, they are not bad people they just can't be in my bubble. I need people I can trust 100% in my life right now.
I have my eyes set on the prize now and I know what I need to do, it doesn't scare me anymore because I can see the path opening up for me and I am feeling more and more confident everyday.
I always like to share my story with my followers so you can see that it isn't easy for anyone to achieve greatness, it takes time, effort and a lot of energy to get there. When you have moments and it all seems too much you have to embrace them and take them for what they are. You have to trust that it is happening for a reason and that you WILL come out on top and much better off for it.
Start now by looking at the big picture then work backwards setting yourself mini goals then start to work towards those mini goals and watch your life change.
You have to believe in YOU and be your biggest support, you only get one shot at life so I say get goal setting and never lose sight of the vision!!!
Justine xx